COSTA RICA TROPICAL LOWLANDS PHOTO TOURS
TRIP HIGHLIGHTS
Join us on our 7-day photographic adventure through Costa Rica's beautiful tropical lowlands. Capture beautiful images of birds, monkeys, frogs, bats, sloths, snakes as well as the vibrant green landscape.
During the photo workshop, we will visit Tortuguero National Park and have custom photography boat trips to explore the fresh water canals that are full of diverse wildlife, as well as explore Northern Costa Rica's rainforest as we focus on the wildlife that calls this area home.
We will also visit family farms and reserves that specialize in frogs, monkeys, colorful macaws, and the other birds that live in the forest of these properties.
During the Costa Rica Tropical Lowlands photography workshop, we will share our photographic techniques for creating images of nectar feeding bats at night with flash photography setups. Learn how to freeze the bats wings and capture tack sharp detail as they visit our flowers during their late night feedings.
We will show you how to use flashes controlled by radio triggers to produce an effective shutter speed of 1/5,000 of a second producing amazing detail.
For those photographers looking to explore more of Costa Rica, consider attending the Costa Rica Photography Workshop with a hummingbird focus, and save $500 when you register for both trips.
GRIZZLY BEAR PHOTO TOURS
TRIP HIGHLIGHTS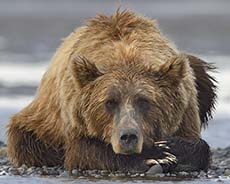 Join award-winning wildlife photographer Matt Shetzer for a trip of a lifetime on our grizzly bear photo tour in the pristine environment of Lake Clark National Park, Alaska.
During the grizzly bear photo tour, you will capture stunning images of grizzly bears in their natural habitat and perfect your wildlife photography skills while enjoying the picturesque setting of the Alaskan wilderness. Guests on the grizzly bear photo tour will be immersed in the region's spectacular scenic beauty, photographing coastal brown bears while enjoying home-cooked meals and staying in an exclusive and strategically-located lodge, where bears can often be seen just outside the deck.
Shetzer's grizzly bear photo tour specializes in one-on-one instruction for photographers of all levels in a small group setting, to ensure maximum field time while catering to each person's skills and interests. Grizzly bear photo tour leaders are assisted by a Lake Clark bear guide who knows the animal's behavior and habitat and will take you to the prime destinations to capture magnificent images of grizzly bears.
Lake Clark National Park is a photographer's paradise. The wildlife preserve is the best destination to capture photos of grizzly bears because these bears have never been hunted. They aren't threatened by human presence and are not aggressive. This gives photographers on the grizzly bear photo tour the rare opportunity to closely observe bears in their natural habitat.
Shetzer's grizzly bear photo tour maintains a focus on small groups, allowing photographers to move around easily and efficiently to get the best shots possible – capturing the best light, backgrounds and compositions throughout your wildlife safari – while maintaining respect for the animals. By doing that, we end up with really natural shots. On a recent grizzly bear photo tour, we had a sow and her twin cubs walk within 6 feet of us without any signs of stress. She was very aware that we were there but just walked right by us. It was an incredible experience our guests will never forget.
COSTA RICA PHOTO TOURS – HIGHLANDS
TRIP HIGHLIGHTS
Costa Rica Photo Tour – Highlands
2025
Dates:
February 28 - March 11, 2025
(SPACE AVAILABLE)
Register for the Workshop
---
Locations: Best hummingbird and wildlife locations in the Costa Rican highlands.
Fee: $6,995 USD PP.
Single supplement of $650
Limit: 4 photographers. 2 photographers per light setup
Duration: 12 days/11 nights
Read More Details
Ask Us A Question
Join us on our 12 day photographic adventure through stunning Costa Rica as we capture beautiful images of hummingbirds, resplendent quetzals, toucans, other colorful birds, sloths, frogs, flowers and much more.
During the Costa Rica photography workshop, we will share our techniques for creating hummingbird images with flash photography setups as well as natural lighting to ensure you go home with your perfect image.
Learn how to freeze the hummingbirds wings and display all their feather detail. We will show you how to use 6-8 flashes per multi-flash setup controlled by radio triggers to produce an effective shutter speed of 1/10,000 of a second.
During the photo workshop, we will visit 4 of the best hummingbird and bird lodges in Costa Rica to see a variety of species, as well as a local family who has turned their farm acreage into breeding grounds for the colorful Costa Rican frogs, and an area that offers opportunities to photograph the amazing Resplendent Quetzal.
For those photographers looking to explore more of Costa Rica, consider attending the Costa Rica Tropical Lowlands Photography Workshop, and save $500 when you register for both trips.

ECUADOR HUMMINGBIRDS #1 PHOTO TOURS
TRIP HIGHLIGHTS
Explore the vibrant rainforests of Ecuador with us during our 7-day hummingbird photo tour and learn specialized techniques to create stunning images of hummingbirds as they feast on native flowers.
Over the course of the hummingbird photo tour, we will journey over mountain passes and across the equator into lush rainforests to three different bird lodges. Each destination we stop at is home to unique species of hummingbirds and a diversity of flowers, giving you the opportunity to create your own exclusive portfolio of exotic hummingbird images.
Have you always wanted to know how to photograph hummingbirds? We have perfected our hummingbird photo tour setup by using a series of seven to eight flashes synchronized by wireless radio transmitters. The multi-flash technique creates a strobe effect and freezes hummingbird wings (which can beat up to 80 times per second) in their tracks.
Guests who attend the hummingbird photo tour will capture superb images of dozens of colorful hummingbird species feeding on beautiful native flowers.
Hummingbird photo tour participants who arrive in Quito early can also enjoy adventure attractions such as rafting, mountain biking, swimming in waterfalls, climbing snow-capped volcanoes and cruising around the Galapagos Islands. There are also opportunities to see Quito's modern side before or after the hummingbird photo tour, by taking scenic tours, shopping at South America's largest market and enjoying cultural fare.
Why do we go to Ecuador? It has the best photography opportunities with the most diverse species of hummingbirds of any country in the world.
ECUADOR HUMMINGBIRD – MINDO AND BEYOND PHOTO TOURS
TRIP HIGHLIGHTS
Join us as we explore the regions of Mindo, Pichincha, and Amagusa all known for their diversity of birds and large endemic population.
Mindo and Beyond is our second itinerary specializing in hummingbird photography in the beautiful South American country of Ecuador.
Over the course of this Hummingbird Photography Workshop you will learn specialized techniques to create stunning images of hummingbirds as they feast on native flowers. In pursuit of this goal, we will journey over mountain passes and across the equator into Ecuador's famous cloud forests.
Though hummingbirds are our primary focus, we will take advantage of our location and photograph stunning birds such as the Cock-of-the-Rock, the colorful Plate-billed mountain toucans and vibrant tanagers.
During the week we will visit five (5) of Ecuador's finest locations for hummingbirds and photograph diverse species of hummingbirds and many native flowers, providing the opportunity to create your own exclusive portfolio of exotic hummingbird images.
GALAPAGOS PHOTO TOURS – EAST
TRIP HIGHLIGHTS
The Galápagos Islands are some of nature's finest works of art. Starkly beautiful scenery teems with rare birds and native animals, with opportunities for a life-changing photograph practically everywhere you look.
The Galápagos Islands have the most endemic species of any region on Earth. Reptiles like the Galápagos Tortoise, mammals like the Galápagos Sea Lion, and birds like the famous Darwin's Finches can be found nowhere else.
There are permanent human settlements on only four of the Galápagos Islands. Across most of the archipelago, nature remains wild and free, and the animals are utterly fearless.
You might see three different species of boobies, great frigatebirds that go weeks without touching land, sally lightfoot crabs with their rainbow-colored shells, or land iguanas lazing in the sun on rocky beaches.
The landscapes of the Galápagos are entrancing, with towers of volcanic rock, mangrove bays teeming with fish, and the constellations of both hemispheres overhead when the nights are clear.
Our Galápagos Photography Workshop will teach you how to photograph these majestic islands in a way that does them justice.
With instruction from veteran photographer Matt Shetzer, and a luxury yacht with a local crew and professional chef, you will be in shape to snap some of the best photographs you have ever taken. There is plenty here to thrill you even if you are not a photographer, with snorkeling, hiking, wildlife-watching, and exploring in totally unique landscapes.
We will use the 104′ luxury catamarans low-impact zodiac pangas to reach narrow inlets and beaches. At each landfall, Matt Shetzer will be on hand to give you personal instruction, while our Galápagos naturalist will teach you about the geology, ecology, and history of nature's paradise.
Every night, after a delicious dinner, we will gather to learn about cameras, lighting, composition, and other photography techniques in the yacht's salon. At each stop along the way, we will be following best practices to preserve the Galápagos ecosystem for future generations.
If you have been looking for a chance to reach new heights as a photographer, or to be inspired by a landscape like no other, our Galápagos Photography Workshop is the trip for you.
GALAPAGOS PHOTO TOURS – WEST
TRIP HIGHLIGHTS
Join us at one of the world's best wildlife photography locations, the Galápagos Islands, for our 9-day/8-night Galápagos Photography Workshop.
The Galápagos Islands, a small archipelago of islands, have been preserved to the highest standards and are a pristine environment where wildlife flourishes.
The Galápagos are unlike any other location in the world, where the wildlife has little fear of humans or other predators, providing nature photographers with up close and personal opportunities with the species that call the Galápagos their home.
The incredible diversity of wildlife and flora species in the exotic ecosystem of the Galápagos Islands will amaze you, with many species only found in the Galápagos.
The Galápagos Photography workshop will spend the majority of the workshop (8-days/ 7-nights) on our private chartered yacht. As the only clients on the yacht, photography is our priority as we schedule our shoots for the best light and conditions to get you those award-winning images. In additional to photography, we will be planning many other activities such as hikes and snorkeling to interested parties.
During the days, we will take the yachts' two zodiacs (pangas) to land at multiple island locations that have the best wildlife opportunities. These efficient boats will get us to the locations quick, thus maximizing our time ashore.
We will visit many different locations during the week to photograph a wide range of wildlife, such as the Galápagos penguin (the only penguins found in Northern Hemisphere), as well as the beautiful beaches and volcanic landscapes. While out in the field, you will have hands-on photography instruction and assistance to obtaining your best wildlife and landscape images.
Once the sun sets, we will spend our evenings in a photography workshop discussing techniques for wildlife and landscape photography. Our instructional classes will be focused on the subjects of the Galápagos islands. We will discuss camera settings, composition ideas and different techniques to create those once in a lifetime stunning images.
As the week progresses, we will then turn our attention to image post-processing techniques to bring the most out of your images. In addition, our Galápagos Naturalist on the yacht will share information on the islands and the wildlife we are photographing. When we have clear skies at night, enjoy the Equatorial sky as you see the Northern and Southern hemisphere skies overhead.

PHOTOSHOP AND LIGHTROOM PRIVATE TUTORING
CUSTOM ONE ON ONE TRAINING
Photoshop and Lightroom – Private Tutoring
---
What: Master the Post Process! Take your photography to the next level by mastering post processing with Photoshop CC and Lightroom CC.
When: To your schedule. We typically do 2 hour blocks of time.
How: Via Zoom. Work on your Images as we setup your computer to work more efficiently and develop your style. Record the tutoring session so you can watch it again and reference it in the future.
Fee: $100 per hour
Skill Level: Beginner to Pro
Instructor: Matt Shetzer
Ask Questions about Photoshop and Lightroom Private Tutoring
Have you ever wanted to Master Photoshop and Lightroom and bring your images up to the next level?
Do you want to make the most of your favorite images?
Join Matt Shetzer remotely via Zoom from your home as he conducts private, one on one, Post Processing tutoring geared for photographers, taught by a photographer.
Learn on your computer at your pace, getting comfortable with the tools and techniques that enhance images and bring out their full potential.
Learn a workflow that uses both Photoshop and Lightroom in tandem to get the most out of your images as you develop a custom process that works for you and achieves the style of images you wish to create.
Each private session is geared towards you!
Whether you want some help working up some of your favorite images from a recent workshop, creating that big print to hang in your home, or learn new techniques like HDR, luminosity masks, managing your photographic library, or just needing some help getting your brain around what a Photoshop Layer is.
We customize each session to meet your needs at your pace, and record the tutoring session to your computer so you can watch it again and reference it in the future.
We have an enormous amount of material to make you a post processing master.
We cover many software products and plug-ins and break apart the complexities of post processing into manageable topics and ensure a non-destructive process.
ICELAND PHOTO TOURS
TRIP HIGHLIGHTS
Join us in stunning Iceland, "The Land of Fire and Ice", to photograph beautiful cascading waterfalls, black sand beaches, cool blue glacial ice, glacial lagoons, Icelandic horses and much more. During the Iceland photography workshop we will be visiting the iconic "must-see" locations as well as some of the more remote locations that offer breathtaking images of this Nordic island nation.
September is a great month to be in Iceland as the sun now sets unlike in the summer months. The start of fall offers nice temperatures and perfect opportunities to photograph the stunning Aurora Borealis over interesting foreground objects. We will still have over 12 hours of daylight each day to explore and capture the natural beauty of Iceland.
Over the week we will be traveling from the Reykjavik region down the southern coast and back up to the Snæfellsjökull peninsula to see the best Iceland has to offer with its dramatic landscapes, glacial lagoons, massive glaciers and enormous waterfalls.
Each night we will keep an eye on the weather and monitor the conditions for Northern Lights photography. If the skies are clear, we will head out in hope of capturing images of the infamous Aurora Borealis. The aurora is always occurring and will appear in different strengths due to solar storms.
Iceland's waterfalls are perhaps the most impressive of any country. We will be photographing the most photogenic of the waterfalls including the iconic waterfalls of Skógafoss, Seljalandsfoss and Kirkjufoss. Icelandic waterfalls are often wrapped by basalt cliffs making them a dramatic waterfall photo.
BALD EAGLE PHOTO TOURS
TRIP HIGHLIGHTS
Bald Eagle Photo Tour
2025
Dates:
TBD 2025

(SPACE AVAILABLE)
Request new trip
---
Locations: Chilkat Bald Eagle Preserve, Alaska and Haines, Alaska
Fee: $4,750 USD PP.
Single supplement of $500
Limit: 6 photographers\ 3 photographers per guide.
Duration: 7 days/6 nights
Read More Details
Ask Us A Question
Join us in capturing the majesty of America's national bird at the Chilkat Bald Eagle Preserve during the largest bald eagle migration in the world. Our bald eagle photo tour is centered on bald eagles in southeast Alaska that congregate from far and wide to feast upon salmon during the last major run of the season.
Every bit of the 48,000 acre Chilkat Preserve is inhabited by the American Bald Eagle at some point during the year. But a unique natural phenomenon attracts a breathtaking amount of birds to the picturesque landscape near Haines, Alaska in the early winter months. The convergence of three rivers creates a warm upwelling that prevents the water from freezing – making an easy meal for one of America's largest birds of prey.
Shetzer's bald eagle photography tour will assist photographers in capturing crystal clear pictures of eagles along the scenic stretch of the Chilkat preserve. Here, illustrious birds with 7-foot wingspans perch on branches waiting to dine on 10-pound chum salmon from the Chilkat River. Unlike other bald eagle photo tours offered in Alaska, you will have the opportunity to view bald eagle's natural behavior. There's no need to bait or use captive birds during the tour. Just natural and wild photos await.
Matt has led 15 bald eagle photography tours in this area in the past seven years, and spends the entire month of November scouting the best locations for getting one-of-a-kind images of bald eagles in their natural habitat. He will guide you to the best locations for photographing the eagles, using his experience and knowledge to show you the places with the best light, and will provide detailed instruction on how to capture your perfect shot.
The Bald Eagle Photography tour takes place at the height of the salmon run in Alaska – the peak time to view bald eagles. Every day, hundreds of eagles can be seen congregating along the snow-capped sandbars, perched upon snags emerging from the river and roosting in the branches of cottonwood trees.
Do we have a workshop that you are interested in, but can't make the dates? See our
Custom Photography Workshops and Tours
and just tell us what dates work for you and we'll see what we can do.
Upcoming Photo Tours
was last modified:
September 5th, 2023
by